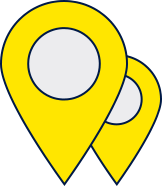 Applied Growth Strategies
Los Angeles Headquarters:
Los Angeles, California
Dallas, Texas
(818) 909.7772
Work area and time
---
Our Headquarters are located in Los Angeles, California and we work on PST time zone.
---
If you are looking for answers and solutions on how to increase your sales, contact us immediately. Please note that we only work with companies or divisions with over $10million USD in annual revenue or more.
Tuesday-Thrusday: 9:00 am - 6:00 pm
Monday and Friday:Client Implementation Days
Sunday: Closed